The modular Well-Being System

Work and Dine

Kim and Lee strategize for a business meeting. While working, Kim likes a cool climate and a firmly shaped seat. Lee prefers a warm and soft seat.
Caynova Well-Being Features available for their personalized comfort
Selectable Cushion Firmness

Adaptive Contouring

Four-way Lumbar Support

Heating and Cooling
Caynova offers Kim and Lee their individual office space in the sky, so they can be refreshed and focused for that business meeting.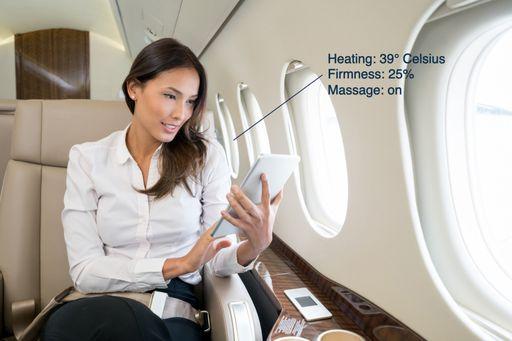 Lounge and Relax

Sue is unwinding from a hard day's work by enjoying her favorite media. She likes to lounge and watch movies. She loves the relaxing back massage in her warm and cosy seat.
Caynova Well-Being Features available for her personalized comfort
Heating

Adaptable Cushion Firmness

Body Massage
Caynova makes Sue's personalized flight experience feel like a day at the spa.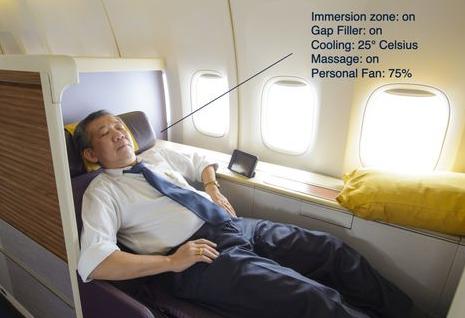 Rest and Sleep

Wang is a side sleeper and only gets comfortable on a soft mattress that allows his body to sink in. He gets hot when sleeping and therefore likes a cool breeze in his space.
Caynova Well-Being Features available for his personalized comfort
Adaptive Body Immersion Zone

Cushion Gap Filler

Cooling

Personal (Suite) Fan
Caynova offers Wang the personalized sleep space he needs to recharge his batteries.

System Description

An Industry-first fully qualified set of pneumatic and thermal features for aircraft seats

Individual Well-Being Features can be mixed and matched to meet customer's specifications and needs

Daisy-chained controller architecture for easy integration of new and additional features - making the system future proof

Configurable communication interface to seat control electronics supporting industry standards RS485, LS CAN, HS CAN

Can be installed on any seat structure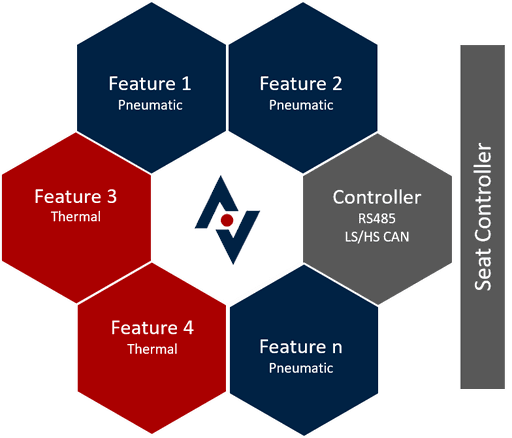 Well-Being Features
What features support your brand and will make your passengers happy and loyal customers?
Work together with our experienced team of specialists and design a next generation Well-Being System that will raise the bar for air travel.


Modular Architecture

Simple and easy integration and installation


Seat Heating

Passenger selectable temperature control of seat surface

Seat Cooling

Passenger selectable temperature control of seat surface


Seat Pan Extension

Smart and automatic air bladder extension of seat surface


Massage

Rhythmic stimulate of muscles and blood circulation preventing fatigue


Lumbar

Passenger adjustable air bladders for optimal lower back support


Gap Filler

Smart and automatic air bladder for a smooth and even surface in bed position


Personal Fan

Passenger controllable air ventilation integrated into the seat shell


Adaptive Contouring

Passenger controllable seat contouring. Smart sensor removes contouring in bed position


Hot Stone Massage

Massage with heating properties enlarges blood vessels around spine and reduces muscle tension


Diagnostic

Smart sensors for intelligent system operation and maintenance


Climatization

Passenger selectable seat surface climate and moisture control


Decubitus

Slow micro movements of strategic seat areas to prevent pressure points, as used in medical aircrafts (air ambulance)


Firmness Selection

Passenger adjustable cushion firmness
(multi steps from soft to firm)


Immersion Zone

Smart and adaptive immersion zone, allowing body to sink deeper into cushion in bed position